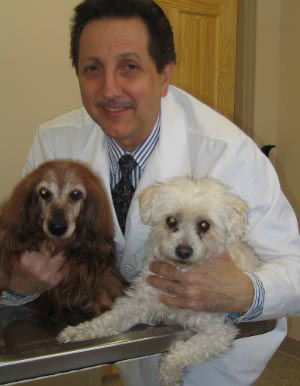 Dr. Joseph Michael D'Agnese is a graduate of the University of Tennessee College of Veterinary Medicine and owner/ operator of Home Vet Care Mobile Veterinary Service since 1985. He has been serving the Tri-State area with diligence and continues to bring this special care to this community. Dr. D'Agnese was also the owner of both Lincoln Park Animal Hospital, located in Yonkers, NY and Bali Veterinary Clinic in Brewster, NY.
Prior to his veterinary career, Dr. D'Agnese was instrumental in developing Project Mainstream for New York State, educating special needs children, working towards mainstreaming them into regular classroom instruction.
Dr. D'Agnese also spent time at Universal Medical in Bedford New York, where he assisted in the training and teaching of veterinary wet labs on abdominal and thoracic ultrasonography. His extensive history diagnosing and treating small animals has allowed him to offer fair pricing with measured outcome and compassion directly to your doorstep.
Dr. D'Agnese is an active board member of Furbridge.org, an animal rescue/community outreach program that offers financial assistance, funding, education & awareness to both the public and other non-profit organizations. http://furbridge.org